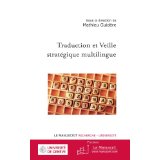 Mathieu Guidère is a Professor and Director of the Strategic Information Analysis Laboratory at the Saint-Cyr Research Center (2004-2007) and Multilingual Monitoring professor at the University of Geneva, Switzerland (2007-2011). He is the author of several books including the Multilingual Dictionary of Defense and Peacekeeping Operations (Ellipses, 2004), Translation and Multilingual Strategic Monitoring (Paris: Le Manuscrit, 2008), and Iraq in Translation: The art of losing a war without knowing the language of his opponent (Paris: Jacob Duvernet, 2008).
Mathieu Guidère is also the co-founder and director of the Radicalization Watch Project.
See Prof. Guidère's conference for the First International Symposium on Multilingual Strategic Monitoring at the University of Geneva, Switzerland, on 28 and 29 May 2008.